---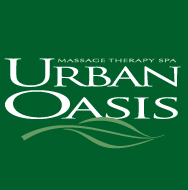 Interview with Urban Oasis Spa Manager Geoffrey Gross
Tell us about your business?
Urban Oasis has two locations near downtown Chicago. We specialize in massage therapies only. Each location has ten treatment rooms. We are open 7 days a week with two shifts each day except Sunday. We employ about 75 massage therapists, most of who have been with the company for more than 3 years.

Gift Certificates are an essential part of our overall business plan. Many of our new clients are referrals that are generated through our Online Gift Certificate sales!
Tell about your online sales before using our instant gift certificate shopping cart system?
Our first software program, Mikal, generated paper gift certificates that we filled out by hand. That worked well enough for one location and allowed for easy tracking and reporting on issued and redeemed gifts.

We launched our first website in 2000 and started selling gift certificates online the following year. These orders continued to be issued as hand-written paper certificates.

We changed our software to Salon SpaWare in 2002 and changed to issuing plastic cards the following year when we opened our second locations. Our customers needed to be able to redeem them at either spa and the plastic cards processed through the credit card terminal supported that.

Processing gift card orders was very demanding during our peak season of Thanksgiving through New Year, when we sell 75% of our annual volume of gift cards. The volume of phone orders and walk-in customers put a big strain on our staff while maintaining normal business operations. We added second credit card terminals in the back offices just to process gift cards orders.
Tell how things have changed now that you use TheGiftCardCafe.com Instant Gift Certificate Shopping Cart?
We changed our shopping cart to the TheGiftCardCafe.com in September of 2008, primarily because they offered the option for Instant Gift Certificates. We felt that Instant Gift Certificates would add an important feature, allowing our customers to purchase when the delivery was time sensitive, and especially after hours or holidays when we are closed.

Because gift certificate sales are such an important part of our business, we wanted to test TheGiftCardCafe.com for a few months before the busy holiday season. Between September and November we processed over 200 Gift Certificates and knew this was the system we wanted. After reviewing the final numbers in our first year we generated $87,000 in Gift Certificate Sales!
After reviewing the final numbers in our first year we generated $87,000 in Gift Certificate Sales!
Instant Gift Certificates now comprise about 80% of orders from the website, and surprisingly, even with the current economy, we have generated more revenue from online sales in 2008 than previous years! Not only are revenues up, but the reduction in processing and fulfillment has allowed my staff to concentrate on other tasks associated with our business.
Tell us your favorite thing about TheGiftCardCafe.com services?
I have been very impressed with the willingness of the Technical Support to work with me on feature enhancements and support questions. The communication and turn-around on have been very good.

I also appreciate the user-friendly interface of the service. It is very easy for my staff to use. Prior to TheGiftCardCafe.com, I was the only person in the company who had access to the shopping cart and it was all very mysterious for everyone else. Now everyone has access to the same information at both locations which improves our customer service.
---
Get Started Now
Add Instant Gift Certificates & Daily Deals To Your Site
Choose A Flexible Pricing Plan That Fits Your Business...We offer a 30 day Risk Free Guarantee!
---