Complimentary Instant Gift Certificates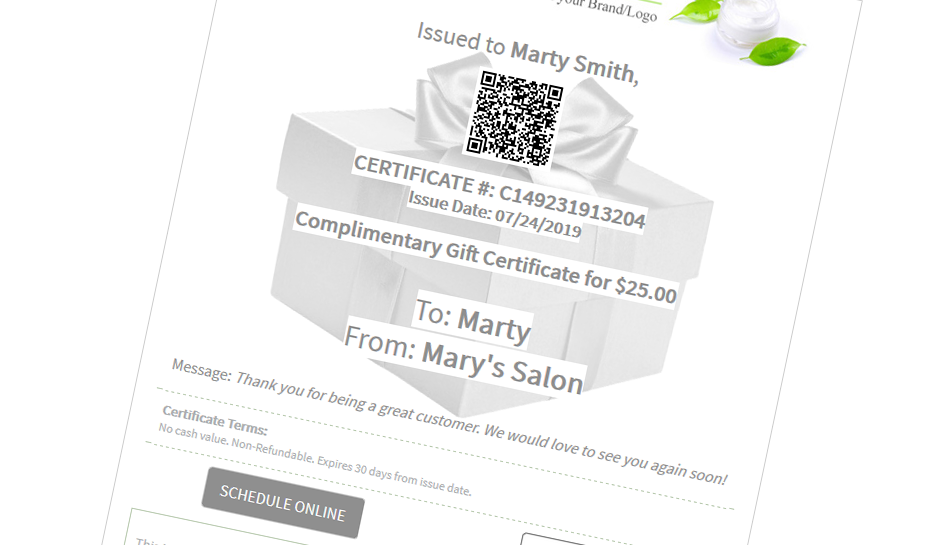 An optional add-on feature included with our core system which can also be used as a stand-alone. Easily send via email, text, or print a Complimentary Instant Gift Certificate for what ever occasion or event. It's the perfect solution for charity events, contest prizes, unsatisfied customers, or for any reason where a trackable comp gift certificate can help solve a problem. Comp Gift Certificates can also be used as a marketing tool to get good customers back in the door.
How to Video
Comp Gift Features
Email, Text, or Print
We offer multiple delivery options to cover all scenarios. Send a digital complimentary certificate via email, text message, or just print out for in-store delivery.
Manage Comp Gift Balances
Track partial redemptions and quickly print out updated certificates with the remaining balance or email/text a copy to the customer with just a click of the mouse.
Low Cost
Since no money is exchanged our standard per order fees DO NOT apply. Instead you can create complimentary gifts for as little as a few cents per certificate.
We offer a 30 day Risk Free Guarantee!
Choose A Flexible Pricing Plan That Fits Your Business...
View Plans & Pricing
Who Uses TGCC?
Browse the wide range of industries that have found success with our digital gift certificate sales and management platform.