---
Sell & Manage Special Daily Deals On Your Website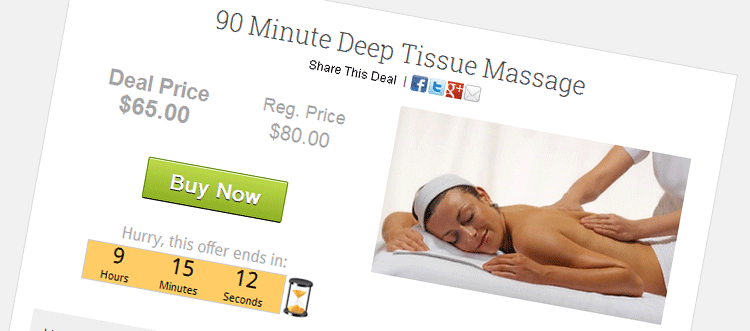 This is a BONUS feature included with our core Instant Gift Certificate system with no additional cost! Our Special Daily Deals feature allows you to quickly setup limited time offers similar to Groupon (but without Groupon fees). It's a great tool for driving new business through your doors or to just promote a special limited time offers to your existing customets. Each Special Deal has a unique link that you can use on your website, in an email, or on your social media sites.

Create specific timed offers like "60 Minute Massage for $65" or "$75 Gift Certificate for $50" or "Dinner for Two for $50". Since it is delivered as an instant gift certificate you could even use this feature to sell tickets to a special event where the printed gift certificate becomes the customer's ticket. How to Video
Special Daily Deals Features:
You're in control...offer deals that make sense for your business!
Manage deal certificate validation and redemptions in our system just like regular instant gift certificates
Set deal to end by date, number of deals sold, or which ever comes first.
Import your custom numbers to be included with each deal certificate for easy redemption in your POS system. How to Video
Add custom images to help promote your deals.
Setup as many deals as you want each with a unique URL to easy market each specific deal.
Four different sized deal widget to add to your website.
Special Deal Promo Page lists all active deals and is perfect for linking from your website or emails.
FREE Marketing...One click posting of your deal to Twitter & Facebook.
Auto generate HTML email templates to copy & paste into your email blast system.
BOGO feature auto generates a second Bonus certificate allowing you to come up with new marketing or discount ideas to help attract new customers. How to Video
---
Business Owner Testimonials
WOW!! I was using another system to offer special deals and I spent months sending out special deals and offers....with no results. Last night, I created my first special deal with TheGiftCardCafe.com and 24 hours later...I have 16 sold. I'm pumped. Clearly my clients find this easy to use and feel safe purchasing.
We had been approached by Groupon in the past, but due to their high commissions, we decided it wasn't a good fit for our Spa! So when we heard about the new "Special Daily Deals" feature we jumped on board immediately! And what an exciting ride it was....we generated 30% of our annual online revenue in just under a week!
The special deals feature has helped me create quite a buzz about our services. Because I'm in control I can make a deal that also works for my business needs. This month's deals have allowed me to create quick cash flow during a typical down month at the same time my clients are raving to their friends about how they have saved so much.
---