Special Daily Deals on Your Website!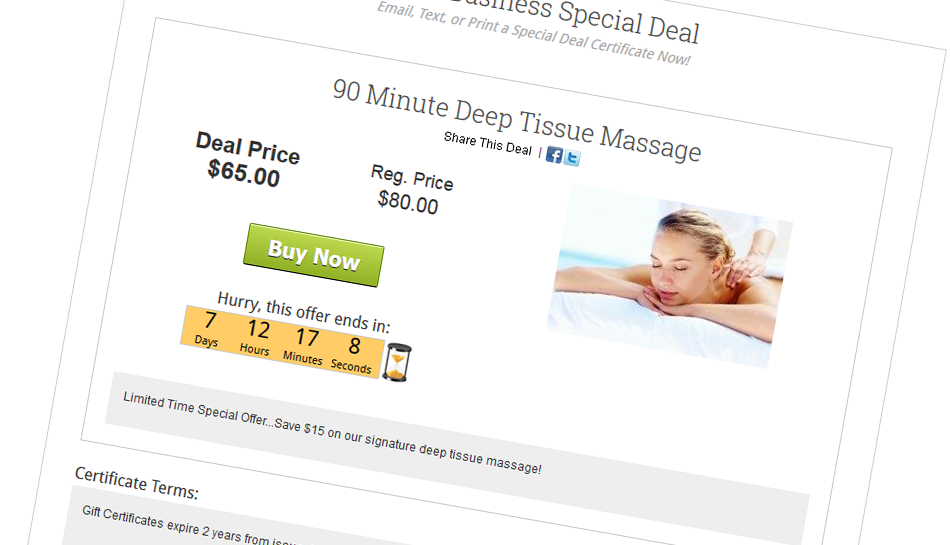 This is a BONUS feature included with our core Instant Gift Certificate system! Our Special Daily Deals feature allows you to quickly setup limited time offers similar to Groupon (but without Groupon fees). It's the perfect tool for driving new business through your doors or to promote special limited time offers to your existing customers.
Create specific timed offers like "60 Minute Massage for $65" or "$75 Gift Certificate for $50" or "Dinner for Two for $50". Since it is delivered as an instant gift certificate you could even use this feature to sell tickets to a special event where the printed gift certificate becomes the customer's ticket.
How to Video
View Working Samples
Promote with Deal Widgets
Each deal has a widget that displays just that deals and we offer an all deals widget like the one below. Widget come in four sizes (medium size displayed below).
Special Daily Deal Features
You're in Control
Create deals that make sense for your business. Our flexible deal platform allows you to set deals to end by date, number of deals sold, or which ever comes first. You decide the type of deal and the amount of the discount. Our systems fees for Special Deals are the same as regular gift certificate fees!
Promote with Deals Page, Links, or Widgets
Each deal has a direct link to just that deal for easy promotion via email, text, or social. We also provide widgets to embed on your website as well as an All Deals Page to display a lists of multiple deals. Choose what works best for you!
Deal Templates
If you are new to daily deals and looking for a simple way to get started use a deal template. We provide several templates of popular daily deals to help you get started with just a few clicks.
Manage Gift Certificate Balances
You can manage deal certificates the same as regular gift certificates. Track partial redemptions and quickly print out updated deal certificates with the remaining balance or email/text a copy to the customer with just a click of the mouse.
Buy One Get One (BOGO) Promotions
The Deal BOGO feature auto generates a second Bonus certificate with any deal purchase allowing you to come up with new marketing or discount ideas to help attract new customers.
Import POS Numbers
This is the same optional feature that Groupon offers. Import custom numbers from your POS to be included on each deal certificate for easy redemption in your POS system or you can always use our system to manage redemption and balances.
We offer a 30 day Risk Free Guarantee!
Choose A Flexible Pricing Plan That Fits Your Business...
View Plans & Pricing
Who Uses TGCC?
Browse the wide range of industries that have found success with our digital gift certificate sales and management platform.