---
Online Instant Gift Certificate & Daily Deal System
We provide a turn-key system that offers you multiple ways to increase revenues with gift certificates and daily deal promotions. It can be added to your website, social media pages, and your email marketing campaigns in a matter of minutes. Perfect for Day Spas, Salons, Bed & Breakfasts, Inns, Golf Courses, House Cleaners, Music Teachers/Studios, Restaurants, or any business that wants to sell gift certificates.
---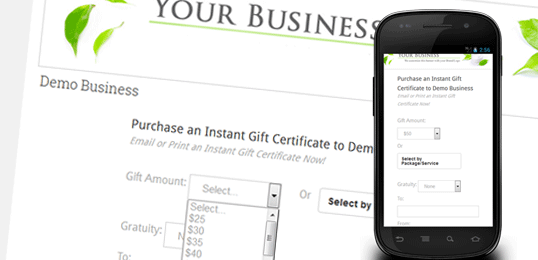 Instant Printable Gift Certificates
Our simple to use system allows you to sell and manage your gift certificates from anywhere with any device. Your customers can purchase that last minute gift 24/7 right from your website or Facebook. You can even print, text, or email instant gift certificates for customers who like to purchase in-store or over the phone. If you already offer physical gift cards you can offer those for online purchase as well.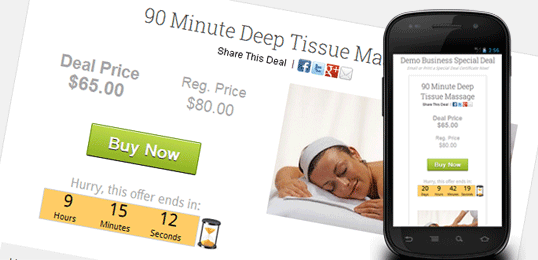 Special Daily Deals
Increase revenue and drive new and existing customers through your doors in a way that makes sense for your business. Quickly create limited timed promotional offers that can be marketed via your website, Facebook, and email campaigns anytime you like. It's an easy and effective way to boost sales during those slow times, holidays, or whenever you like.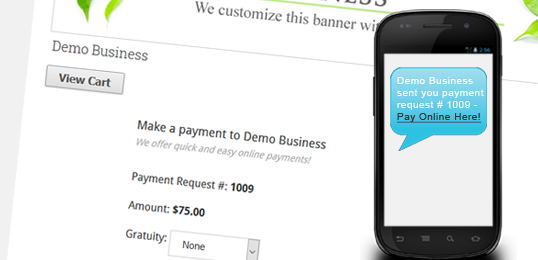 Online Payments & Payment Requests
This add-on feature offers two easy ways to collect and track client payments online. You can add a Make a Payment button to your website so your clients can easily pre-pay online for services or for whatever reason. You can also create custom Payment Requests (like a digital invoice) that you can quickly send via text or email to a client so they can pay online for services or for whatever reason. All trackable in your account with digital and text receipts.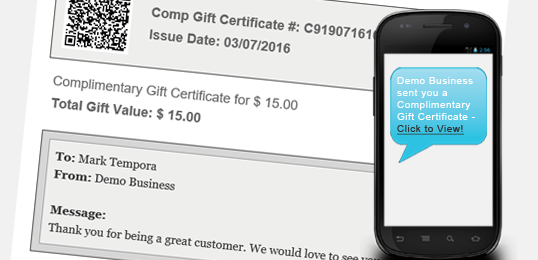 Complimentary Instant Gift Certificates
Easily send trackable Complimentary Gift Certificates via text message or email. It's the perfect solution for charity events, contest prizes, unsatisfied customers, or any reason where a quick comp gift certificate can help solve a problem. Comp Gift Certificates are also an easy marketing tool to get good customers back in the door.
---